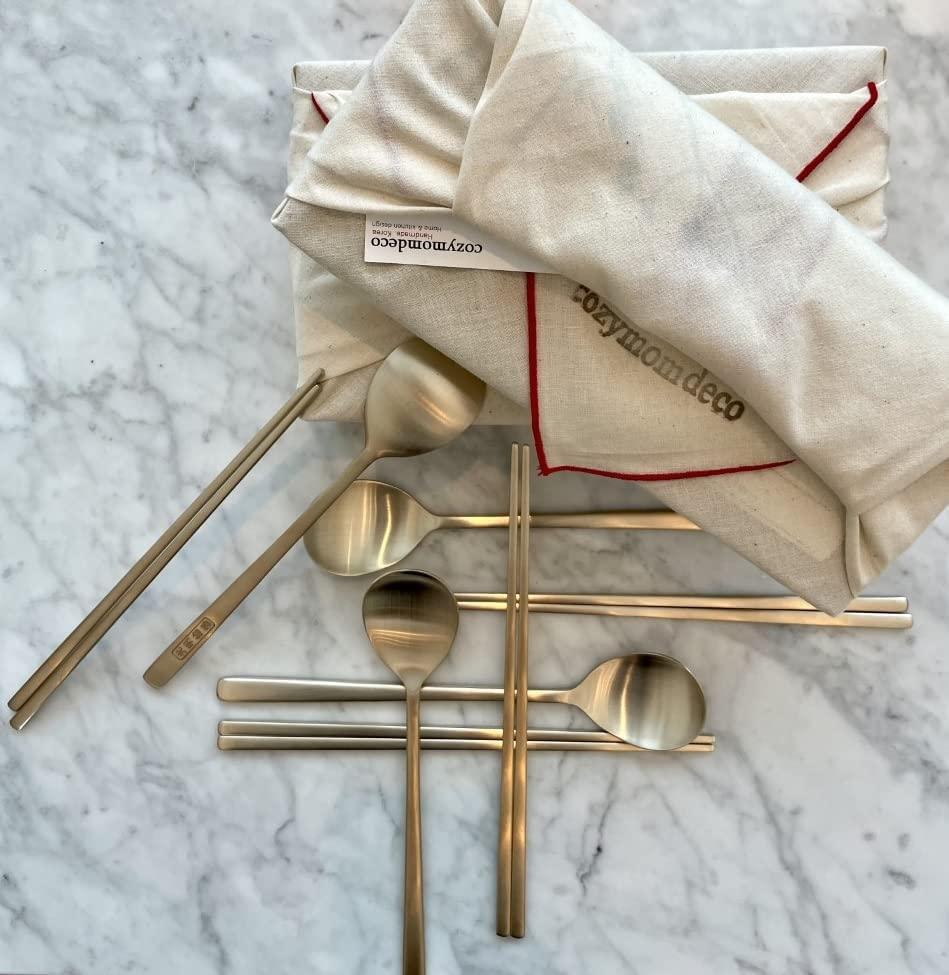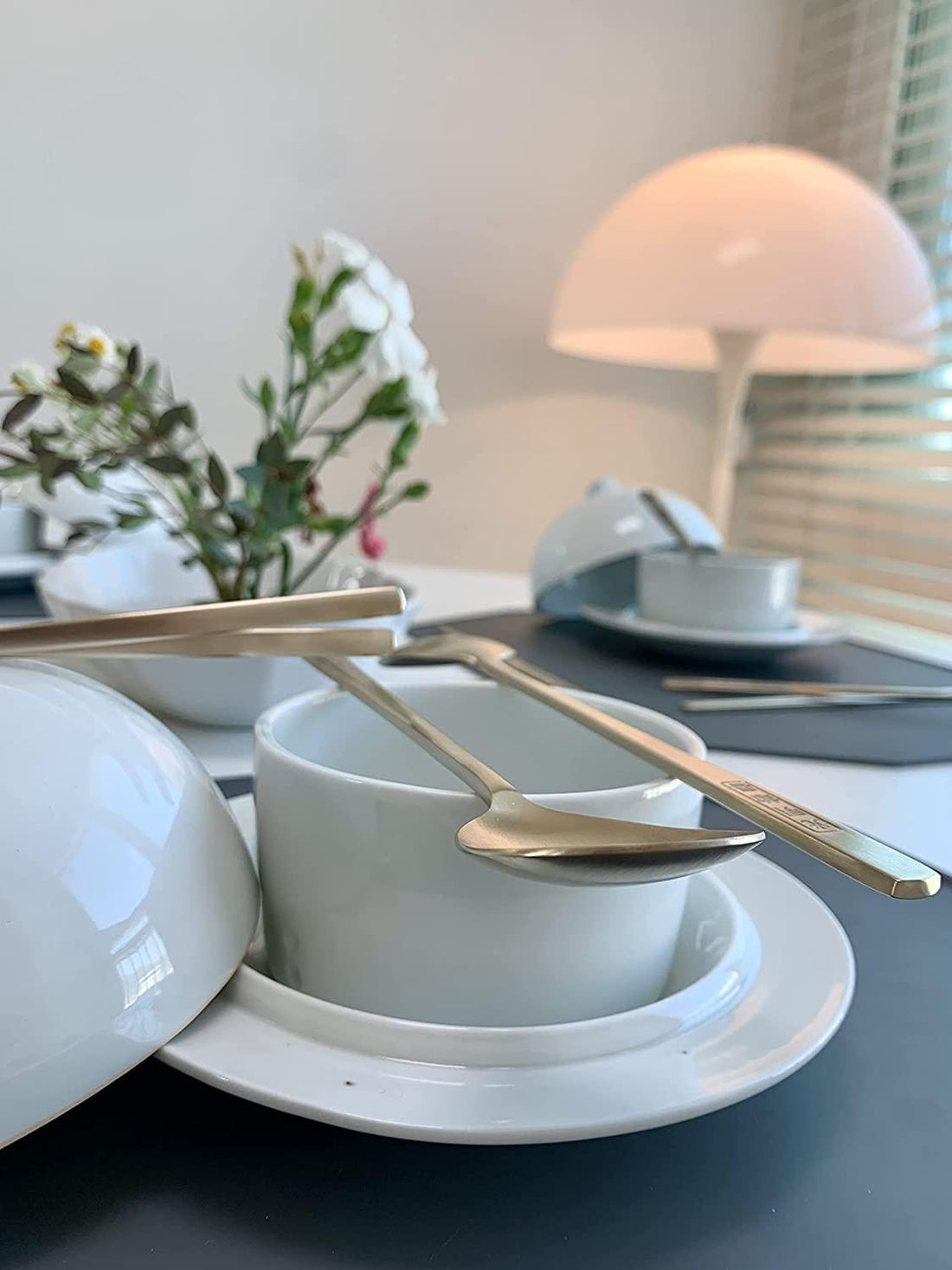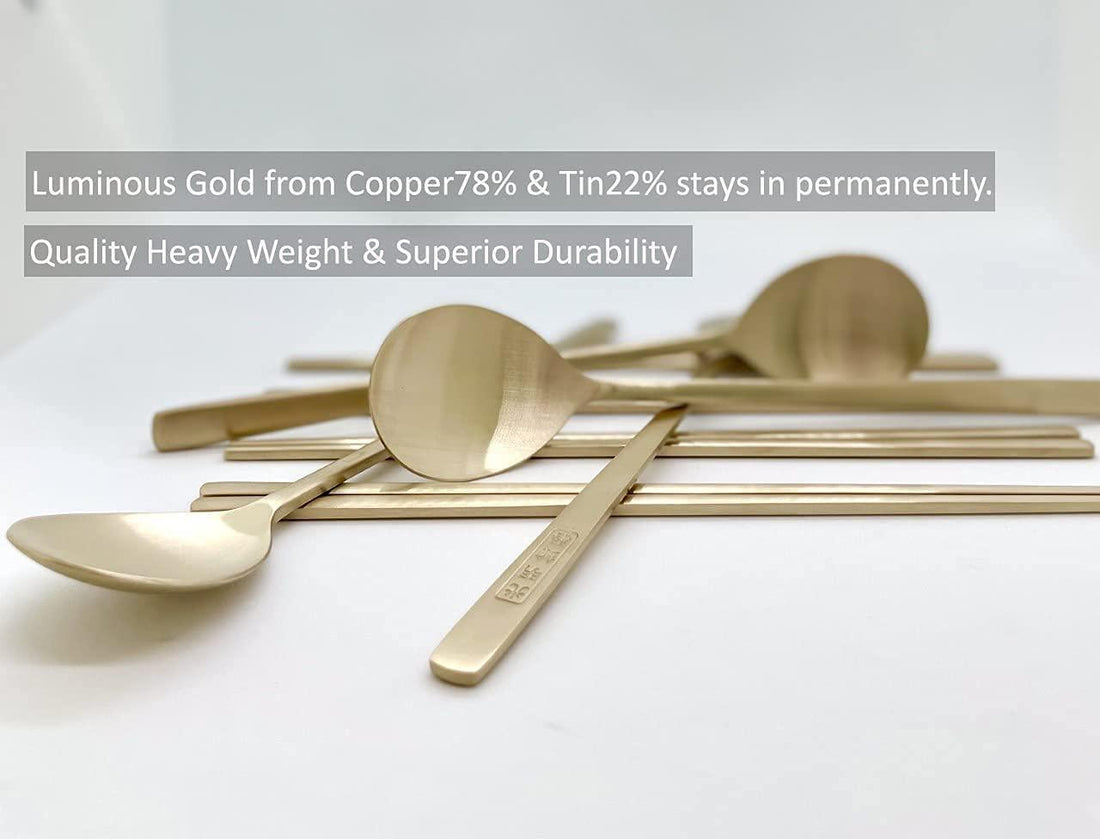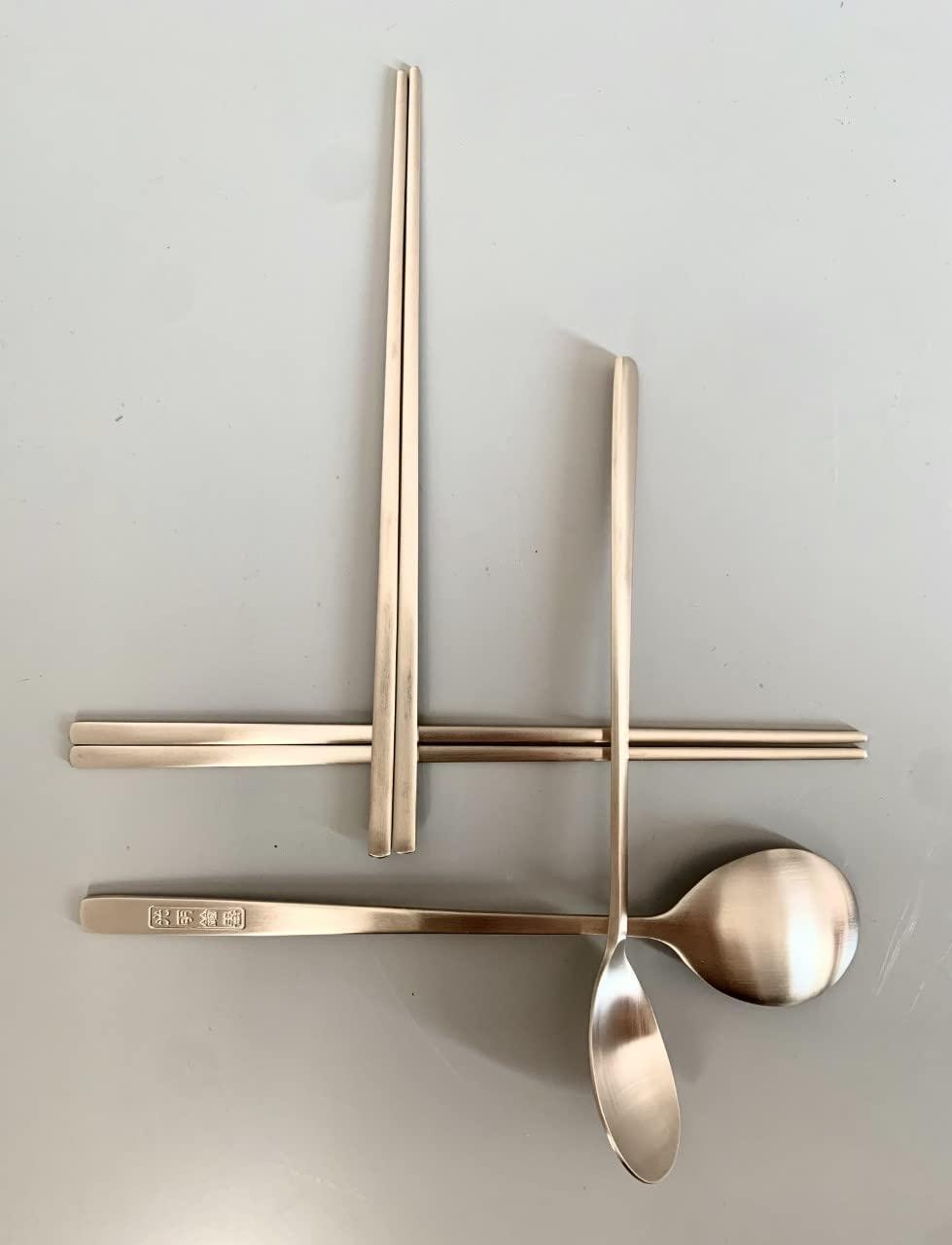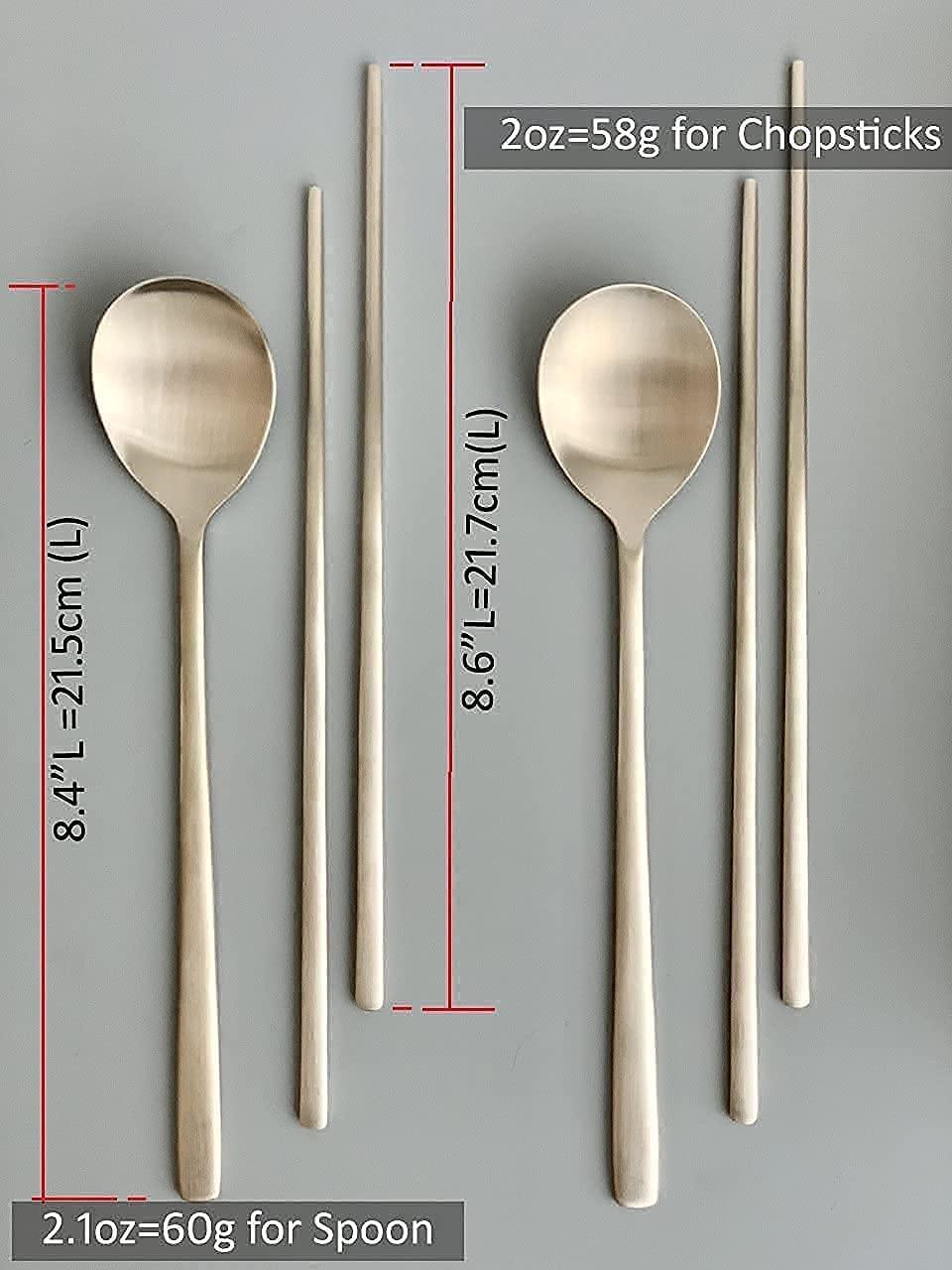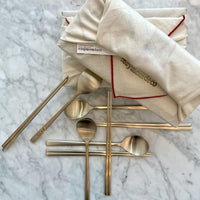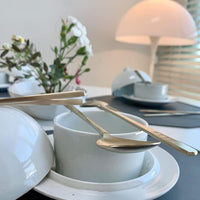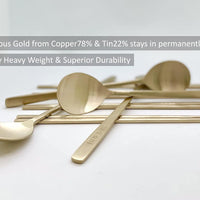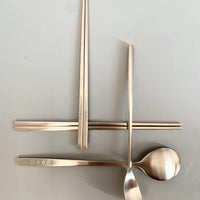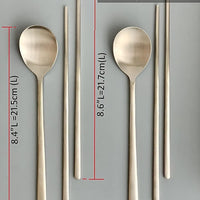 Korean Made Traditional Utensil Flatware Luminous
【KOREAN HAND FORGED BRONZEWARE】 Our Korean traditional Bronzeware is named as BANGJJA YUGI, which is different alloy ratio of copper and tin, 78:22, makes unique mechanical properties, comparing with the common bronzeware (90:10=copper:tin). This 4sets of flatware (4 Chopsticks & 4 Spoons) is fully hand made with the traditional method transferred from the several hundred years. Hand hammering with heating over 1200℃ (2,192℉) gives superior durability than any other flatware in the world.
【LUMINOUS GOLD and HEAVY WEIGHT】 The luminous gold is not made from coating process, but its own color of the special metal alloy (Copper78% & Tin 22%). With a little care, it will keep you permanently. Apart from adorning your dinner table, gorgeous flatware set delivers the ultimate dining experience as everyday premium flatware. It is solid Brassware, much weight than typical stainless steel flatware, but feeling quality metal flatware.
【WRAPING FABRIC is ANOTHER GIFT】 Our gift wrap material is traditional Korean cotton cloth, which is natural 100% cotton material with no artificial chemical treatment for whitening and softening. After receive the package, the gift wrap can be used for various purpose of your daily living items, such as table cloth, dishcloth, handkerchief, etc.
【PRODUCT GUIDE & CLEANING PAD】 As the response of the customer feedback, we included product guide brochure and cleaning pad (scrubber). The guide introduces YUGI Brassware and how to maintain it clean and shine with video clip by QR code. The product guide will also help when you gift someone, who is not familiar with this product. The green heavy duty scrubber included will keep your YUGI brass ware simply clean and shine.
【GUIDE FOR CARE】 Hand Wash and Dry with Dish Cloth. No Dishwasher. For stain or discoloration, rub the dried surface of the cutlery with the green heavy duty scrub included. Your spoon and chopsticks will be back to shine and luminous gold color easily. For the detail guide line and product information, we included brochure on the package.
[Brass] Spoon & Chopsticks 4 Set Good for Gift
All orders are processed within 1-2 business days. Orders are not
shipped or delivered on weekends or holidays. If we are experiencing a
high volume of orders, shipments may be delayed by a few days. Please
allow additional days in transit for delivery. If there will be a
significant delay in shipment of your order, we will contact you via
email or telephone.
Tab collections
Your product's name
$19.99
Your product's name
$19.99
Your product's name
$19.99
Your product's name
$19.99
Your product's name
$19.99
Your product's name
$19.99