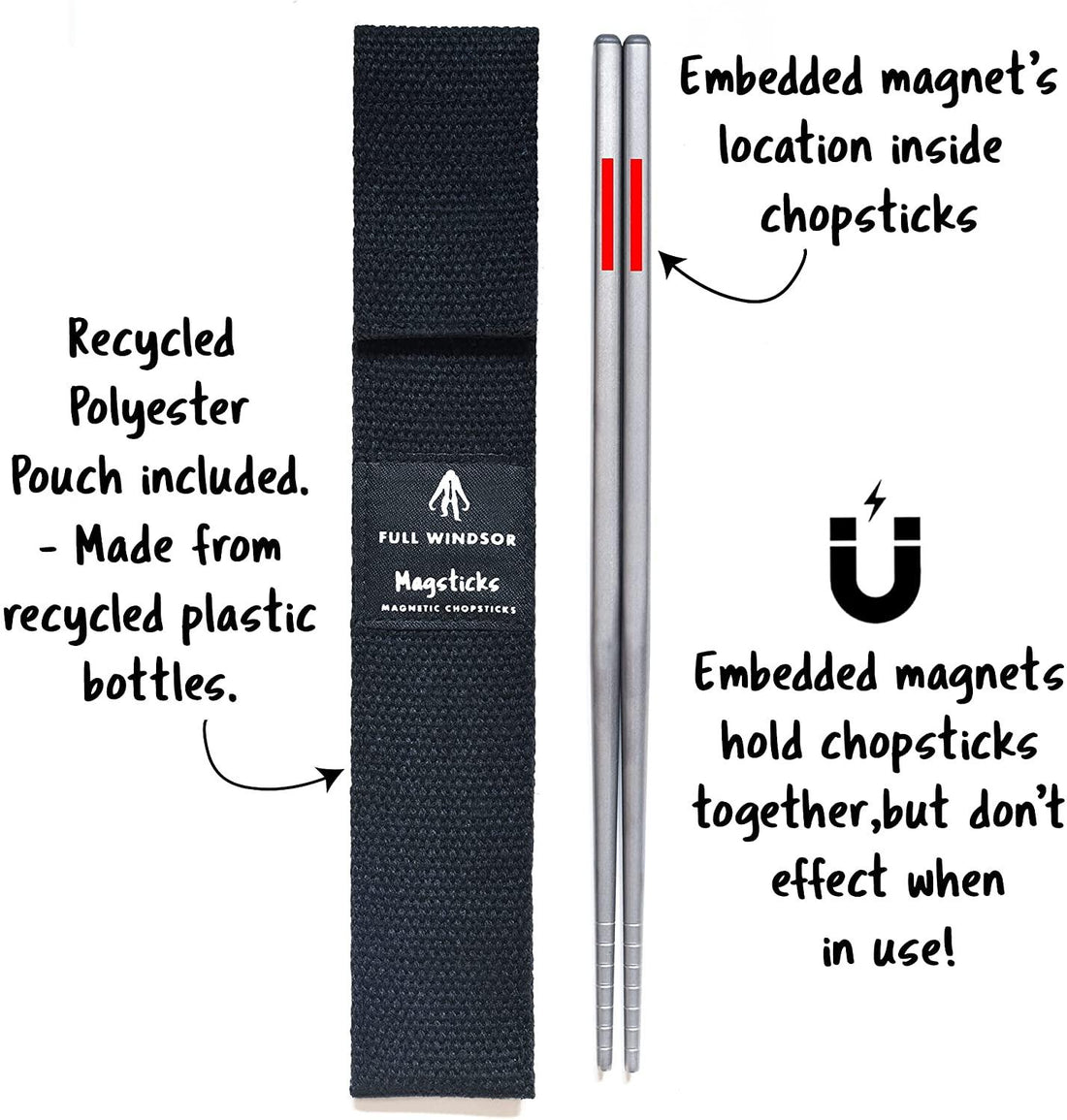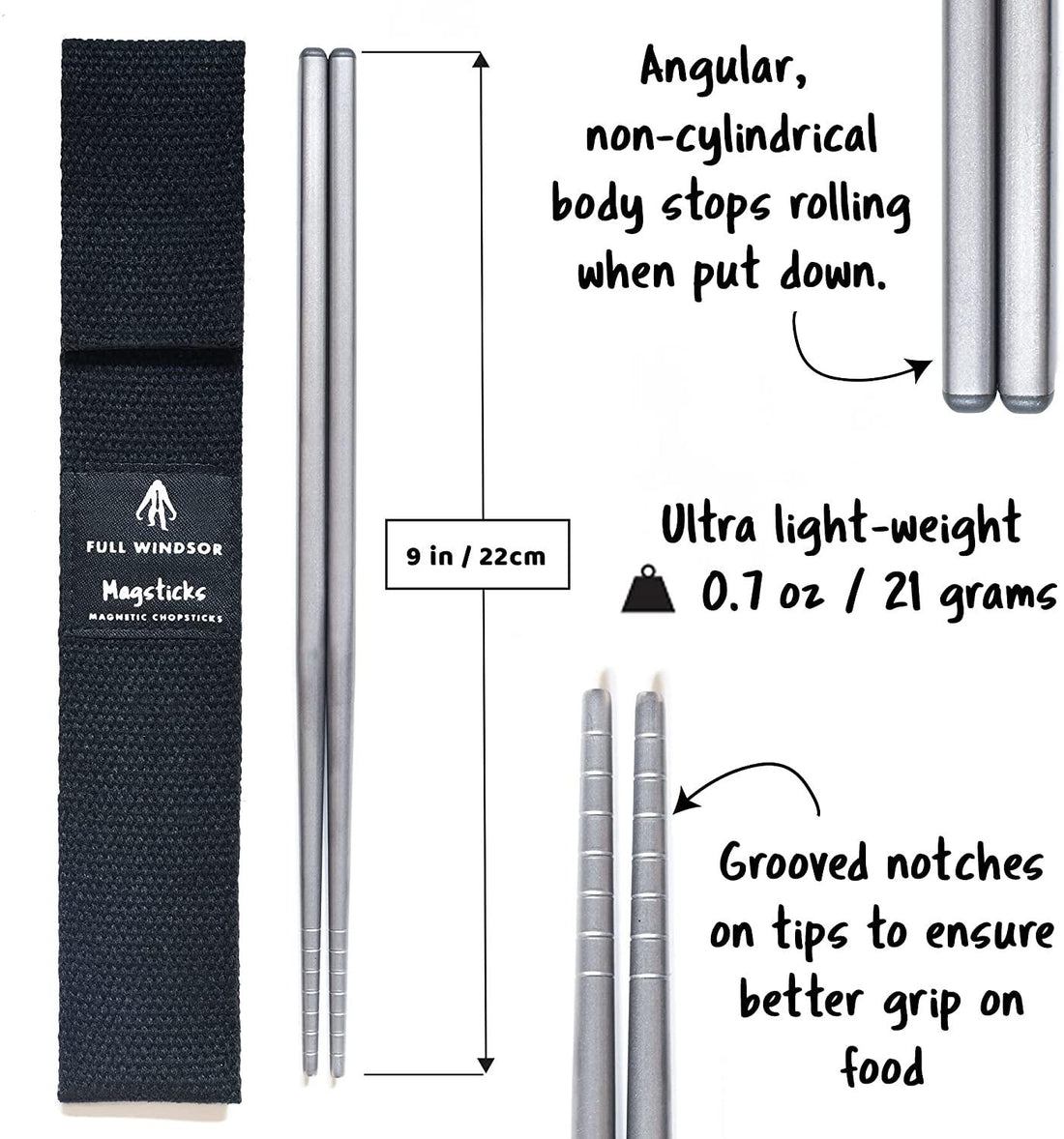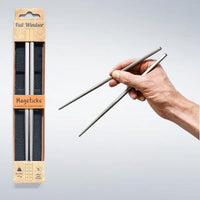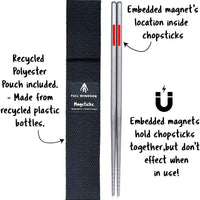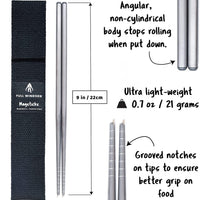 MAGSTICKS Premium Magnetic Titanium Chopsticks
✔ EMBEDDED MAGNETS: Magsticks reusable chopsticks feature embedded magnets inside each pair to hold them together when laid down, without inhibiting eating when in use. Perfect for the adept user, learning chopsticks for beginners, training chopsticks for adults, or the whole family. Unlike Western metal cooking utensils, Magsticks are ideal for ramen, sushi, Japanese cooking, Korean noodles, and other Asian food - the works!
✔ LIGHT AND DURABLE: Each pair of Magsticks portable chopsticks weighs only 0.7 ounces or 21 grams, making them very convenient for use as travel chopsticks. This chopstick set is on par with any fancy chopsticks, including the highest caliber Chinese chopsticks, Korean chopsticks, and Japanese chopsticks. Unlike plastic or bamboo chopsticks, they're reusable and eco-conscious.
✔ THE PERFECT GIFT: Magsticks are a cool chopsticks set that make an ideal replacement for the single-use wooden chopsticks that you get with most take-out food. They come with a 100% recycled polypropylene pouch or case, which is made from recycled plastic PET bottles. They make the perfect reusable chopstick gift set for just about anyone!
✔ DISHWASHER SAFE CHOPSTICKS: Are your chopsticks reusable, or are your chopsticks disposable? Magsticks are, and they're temperature and corrosion-resistant, which not only makes them dishwasher-safe but also ensures durability for years to come. Titanium is odorless and tasteless, so it leaves no unpleasant effect on the palate.
✔ SAFE, HIGH-QUALITY METAL CHOPSTICKS: The food-grade pure titanium construction of this product is scientifically recognized to be healthy and safe for the human body. It's much better than cheap, disposable chopsticks, plastic chopsticks, fiberglass chopsticks, ceramic chopsticks, stainless steel chopsticks, or other metal chopsticks. Magsticks measure 9" long x 0.25" wide x 0.25" thick - perfect for any food.
- Reusable Travel Chop Sticks - Korean, Japanese, Chinese & Oriental Eating & Cooking Chopsticks - 100% Eco-friendly - Light-weight for Kids and Adults
All orders are processed within 1-2 business days. Orders are not
shipped or delivered on weekends or holidays. If we are experiencing a
high volume of orders, shipments may be delayed by a few days. Please
allow additional days in transit for delivery. If there will be a
significant delay in shipment of your order, we will contact you via
email or telephone.
Tab collections
Your product's name
$19.99
Your product's name
$19.99
Your product's name
$19.99
Your product's name
$19.99
Your product's name
$19.99
Your product's name
$19.99